PHP
Jump to navigation
Jump to search

Each of the purple diamonds represents PHP code that can be run in nuBuilder Forte and when.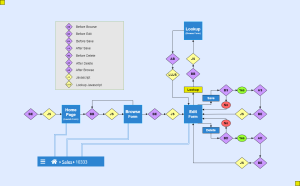 eg. You might add this in AS - After Save of an invoice Browse and Edit Form.
  $s = "UPDATE stock SET sto_units = sto_units - '$units' WHERE stock_id = '$stock_id';"
  
  nuRunQuery($s);

All of the AS BS BB and BE code blocks are for PHP only and are executed on the server-side.
You can create and call a JavaScript routine ( nuJavascriptCallback($string1) )
All Javascript to run on the client side should be done in the Custom Code of the object (most likely for the onclick that you're trying to do).
Each field or label on the form has a Custom Code (click the OBJ button to see all the objects on your form) and so does the form itself (click the Prop button).
db_fetch_array
db_fetch_object
db_fetch_row
db_field_names
db_num_columns
db_num_rows
nuAddJavascript
nuDebug
nuDisplayError
nuGlobalAccess
nuSendEmail
nuHash
nuHasNewRecordID
nuHasNoRecordID
nuGetFormProperties
nuGetIPAddress
nuGetNuDataValue
nuSetNuDataValue
nuID
nuJavascriptCallback
nuLookupRecord
nuProcedure
nuReturnNewRecord
nuRunQuery
This function is to be used to access the database. If it is passed a SQL statement it will prepare the statement and then execute it. The results of the query can be fetched using the db_fetch_ family of functions below.
If the SQL statement is not defined or no parameters are passed to the function, then an array containing information about the database is used such as:
The database host
The name of the database
The username for the database.
The password for the user to access the database.
Array (

  [0] => 127.0.0.1
  [1] => site_c
  [2] => root
  [3] => root123

)

The statement template can contain zero or more named (:name) or question mark (?) parameter markers for which real values will be substituted when the statement is executed. The variables array must have the values to be used for each (:name) or ? in the query.
nuSetFormValue
nuSubformObject
nuStringContains
nuStringEndsWith
nuStringLeft
nuStringRight
nuStringStartsWith
nuTT
nuUser